On these hot summer nights, I'm often after simple grub with minimal cooking. After all, we're hot and tired after a day in the office and crammed into trains so we might as well keep things simple.
Give this simple summery pasta recipe a go...
Tomato and Goats Cheese Pasta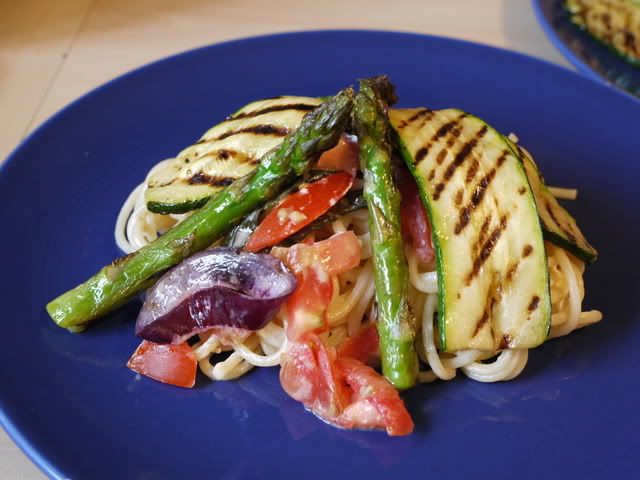 You will need: (to serve 2)
1 pack of chevre/goats cheese
1/2 red onion
2 tomatoes, diced
handful of basil
1 courgette, sliced lengthways
6 asparagus tips
175g spaghetti
sunflower oil
olive oil
salt & pepper to season
- Put the spaghetti on to boil. I find that it usually takes around 10 minutes for my taste but follow the packets instructions if you're unsure.
- Meanwhile, cut the onion into rings, brush them, the asparagus and the courgette with a little sunflower oil and fry on a griddle pan until softened and nicely coloured. Set aside.
- Break up the cheese into bite-sized chunks and put in a bowl with the tomatoes, cooked onion and torn basil leaves. Once the pasta is cooked to your liking, drain it thoroughly and add it to the bowl with a drizzle of olive oil and some seasoning. Leave for a moment so that the cheese melts slightly and toss until the ingredients are combined and the tomatoes and cheese cover the spaghetti.
- Serve a twirl of spaghetti with the griddled veg over the top.