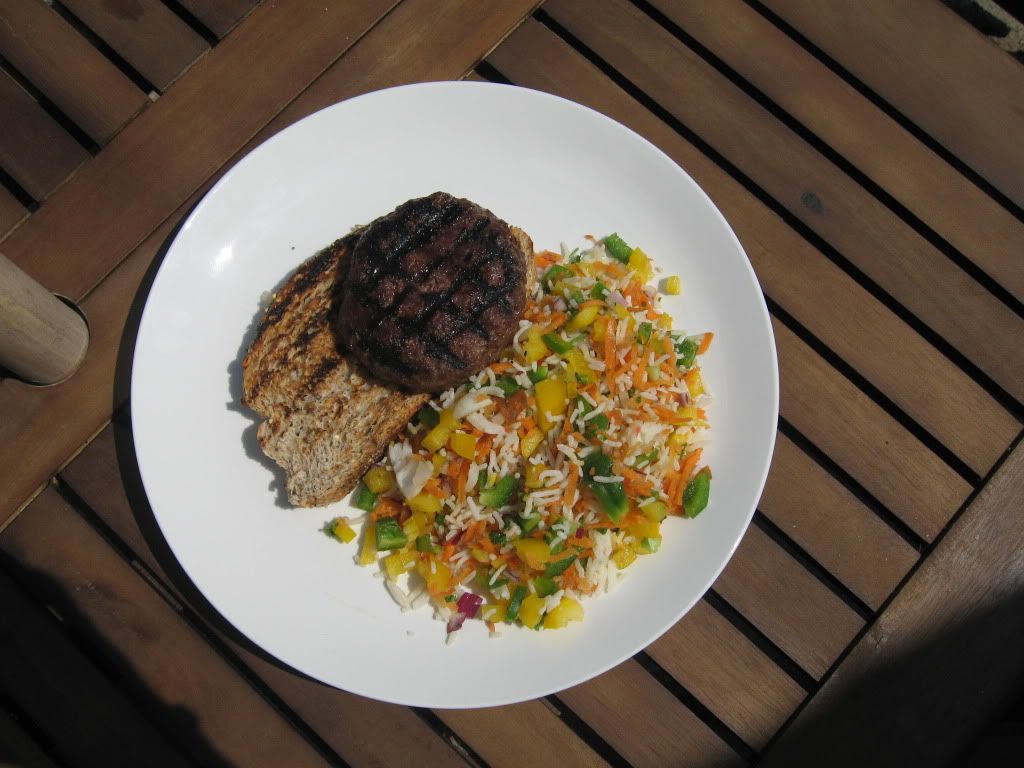 We've squirreled ourselves away to a microscopic and ever so lovely cottage for a week near Monmouth on the Welsh border. Apart from a touch of extreme relaxation, we've also been looking forward to getting a chance to cook together. The produce around here is good. Our closest supermarket is a Waitrose which is a treat though there are lovely butchers and greengrocers dotted about. Our home for the week is surprisingly well equiped for a holiday let with Le Creuset pans and good knives (though the Boy brought his own). As an evening off, we got the obligatory Indian take-away with fluffy naan bread, crispy poppadoms (a favourite of my boyfriend) and fragrant pilau rice as well as a few colourful curries.
The next day, faced with leftover rice (cardamom pods and cumin seeds buried like jewels within), I felt inspired. A very easy recipe - barely a recipe even!
Rice Salad
Makes: a tasty way to use up left-overs - an easy and fresh salad.
Ingredients: (enough for two)
a take-away tub (or thereabouts) of cooked pilau rice
2 peppers (one yello, one green)
1 red onion
2 or 3 tomatoes
1 carrot, peeled and grated
handful of raisins, soaked in apple juice
Fresh corriander
Method:
- Finely chop all of the vegetables and the corriander, removing the stalks from the peppers, etc
- Combine all ingredients in a bowl and mix with hands
- Serve with a burger, eat in the sun
Variations:
This could be done with any kind of leftover rice - could go with a thai theme and add grated coconut.